1 Choose a name for your website or blog and register a domain name.
recognize what you do at a glance.
If you have any brand name that case you should try to get a brand name-rich website.
You can also get suggestions from your clients or associates about choosing your website name.
Tips for choosing website name. What should I name my new website?
A website can have a Catchy Phrase.
A website name can have a Call to Action.
A website name can be short and easy to remember
A website name can be longer but easy to remember
You can use a modifier to choose a website name.
You can use a domain Suggestion Tool.
You can use the right Domain Name Extensions (.com, . org, . net)
Your Brandable Over Generic.
Make Sure It's Easy To Type.
Make Sure It's Easy To Pronounce.
How to register a free domain name
Many website hosting providers provide a free domain name for one year with the new hosting subscription. Free domain is available for only one year. Next year you need to pay for the domain renewal.
Should we use a free domain name?
We do not recommend the free domain name. If you want to go far in blogging, then you should select the best domain registrar for domain registration. So that you can keep all your domain with one registrar and change the hosting provider anytime. And you should find the best suitable hosting company according to your requirement. But if you want to start for learning purposes, then you can get the benefit of free domain name registration.
Where it registers the domain. Which is the best domain provider?
There are many established and reliable domain providers. You can register the domain from any of the following website registrars.
namecheap.com
godaddy.com
domain.com
What is the domain price?
This average domain price for dot com is around 10 dollars, sometimes special discounts or some hosting companies provide the first year free.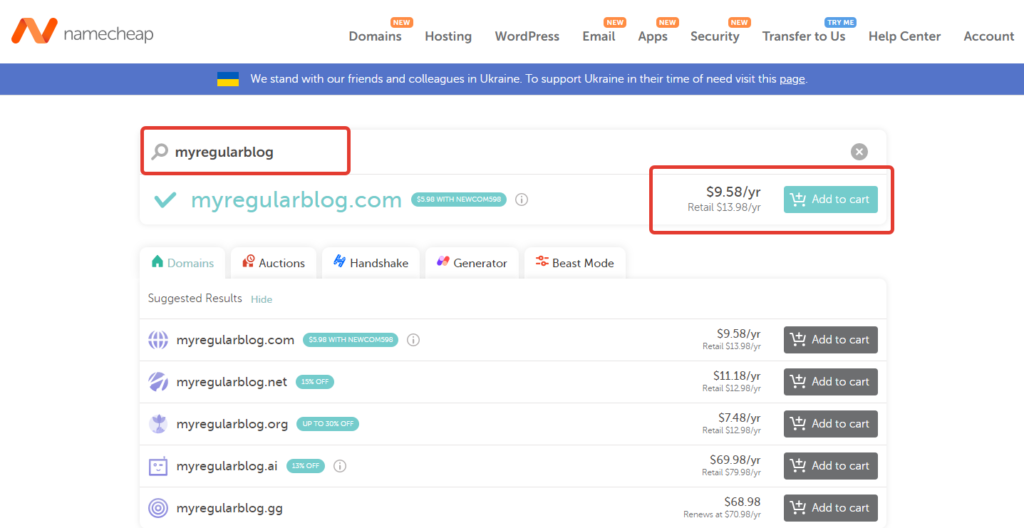 Premium Domain
If the domain name is special or has a special keyword, then available at a premium price.

2. Choose an affordable web hosting company to create a hosting account.
What is a hosting service?
Hosting is like an online computer or cloud storage for the website. You can create a website on your local computer, but only you can reach that website. But if you make or upload a website on hosting storage that case, it will be online, and anybody can visit the website.
The hosting company will provide your online store to create or store your website. These days many software like WordPress is available on almost all the hosting providers to install your website in some clicks without any experience.
How to choose the best suitable hosting company.
There are many web hosting companies. Many hosting providers offer different hosting plans from cheap and affordable to expensive.
What is the difference between a chap and an expensive hosting plan?
The hosting plan's prices are based on user requirements. A cheaper hosting provider provides the basic plan with limited resources. Les website storage and minimum visitors load on the website.
Hosting plans
3. Link your domain name with the hosting provider.
How do domain and hosting work together?
The main difference between domain and hosting is that domain is the website address, which allows a visitor to easily find your website online while hosting is where the website files are stored online. You need both a domain and hosting space to have a functioning website.
How do I connect my domain to my hosting server?
Select the domain you want to connect to the host. If you have multiple domains,
From the Domain overview page, on the left, click DNS.
Select the DNS record provided by your web host for instructions on adding it to your domain's DNS records.
4. Install blogging software like WordPress to create the website.
Install the required plugins for additional functions.
Create the basic pages.
Create some SEO articles.
Submit the site to search engines to come in online search results.
Create social media accounts and share the post links
Create some backlinks to increase the credibility of the site.
Make the necessary effort to get the daily targeted visitors.
Start to make money from the website.
Make Money from digital marketing: Step by step digital marketing guide
5. Choose a suitable WordPress theme.
How to choose a WordPress theme?
Good lookin theme: Choose the color and design according to your requirement.
The theme should be responsive: Responsive means the theme structure should change automatically according to user devices like PC, Tab, or mobile devices.
Fast loading theme: If the theme takes time to load on a slow connection it is harmful to your site reputation and you can lose visitors also.
Paid theme or free theme: You can start with the free theme but if you need a theme of your choice you can buy the paid theme. But be careful about the license period it is for one year or life long. If you go with one year license then you need to pay every year for the update of the same theme.
How to get the best free WordPress theme?
You can get the three themes inside your WordPress dashboard under the theme section.
In the WordPress dashboard click on Appearance
Click on Add new.
Choose from the available themes or search for a specific theme.
6. Install some basic plugins
Plugins provide extra functionality in the WordPress website. If you install a social share plugin then your website will show a share button on articles or on pages. There are thousands of great free plugins available online but you should install only selected plugins that are necessary for your site.
Unnecessary large-size plugins can slow down your site's loading speed and also will consume extra hosting space.
7. Create basic pages.
Following are the main basic pages any type of website should have.
Home page
About page
Contact pages.
Privacy Policy
But a business website can create the following pages
Homepage
About page
Contact page
Product page
Service page
Blog
Privacy Policy
Terms of Service
A professional website and add the following pages also.
Testimonials
FAQ
Sitemap
Page not found (404)
Returns/Refunds page
Shipping Policy page
Optional and additional pages depending on the type of website you are creating.
Search results page
News page
Careers page
Expert page
Disclosure page